Male foreskin circumcision is the surgical removal of the skin fold on the glans of the penis. This procedure is possible for all ages.
A type of operation depends on personal preferences and medical conditions. A doctor may recommend one of the following types of circumcision:
Minimal — excision of a very small area of the foreskin. The indications are the scar circle or redundancy of the foreskin. The penis glans are still completely covered after this procedure. The major disadvantage of this type of operation is the chance that scar circles will form again.
Partial — the glans of the penis is almost completely covered when the penis is not in the erect condition, leaving only the external opening of the urethra open.
Loose — the penis glans is nearly always open.
Medium (moderate) — the glans of the penis is always open. This is the most common type of circumcision.
Tight — complete removal of the skin fold on the penis. In this case, the visual size of the penis may decrease, and the skin is very tight during an erection. This type of surgery is only performed in plastic surgery due to medical reasons or by request of the patient.
Penis recovery after circumcision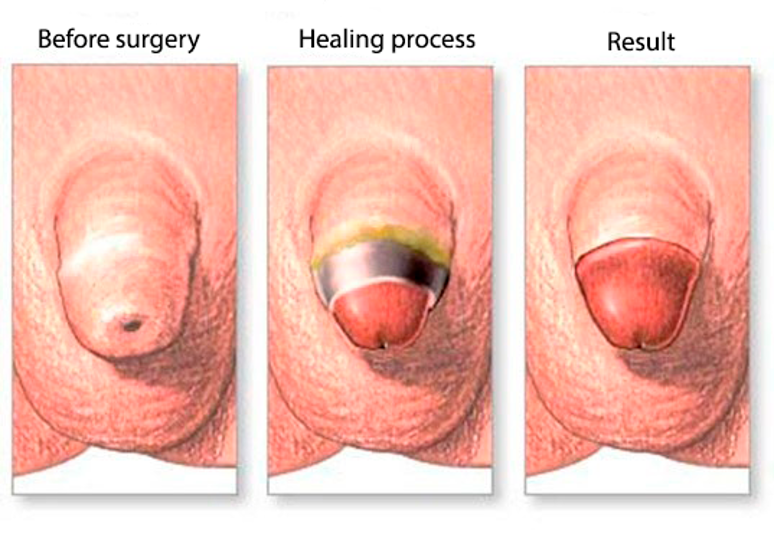 One of the most popular circumcision techniques is a "double incision". The procedure involves two separate circular incisions on the internal and external foreskin, followed by the removal of the skin between them (exactly the amount of foreskin the patient chooses to have removed). Afterward, the remainder of the foreskin is stitched together with self-dissolving stitches and protected with an aseptic bandage.
"The German method" of circumcision (foreskin plastic surgery) does not involve removing a foreskin. It includes several incisions that are stitched together transversely. The foreskin is slightly shortened, the foreskin opening is enlarged, and as a result, the glans can be opened easily. The development of modern technology has made it possible to use laser circumcision extensively.
Pictures before and after: